ARTFARM is a non-profit, professional theater organization, based in Middletown, CT, USA 
Please help keep ARTFARM vibrant. Consider a monthly donation TODAY.
Help ARTFARM grow--quick & easy online donations Click above!

Follow us on Twitter @ARTFARMpresents
EMBODIMENT & INTERBEING
workshops
with

ARTFARM Artistic Director, MARCELLA TROWBRIDGE
Photo from Embodiment & Interbeing Workshop at Lion's Gate Festival, Ithaca, NY

August, Lion's Gate, Ithaca, NY
October, The Sanctuary, East Haddam, CT


Through movement, intermodal expressive arts & play we will connect with our s(S)elves, one another and nature.

                                 Moving towards increased consciousness through personal & collective healing.                                                                                                         Simultaneously holding grief, joy and gratitude.                                                                                                                                                 Honoring the truths in our stories –                                                                                                                the places where we are ready to lean in- & where we might find freedom to let go.                                 Embodiment. Belonging. Authenticity.

 Recognizing our interconnectedness, we endeavor towards personal responsibility & group accountability.                                                                                                      Self-regulation and Co-regulation.                                                                                             Like a forest of trees, we are all connected, and this network requires health at each individual root.

 Be ready to move, get a little dirty, cultivate trust in your intuit & be in community.
These workshops are currently available for communities throughout the NorthEast United States
      Contact info@art-farm.org or call 860.346.4390

-----
Middle East, Middletown - featuring
Heart of Afghanistan 
was sold out and delighted local residents: Afghans, non-Afghans,
music aficionados, alike! Thank you MCA, CFMC, Afghan Society of CT
& to the Baitul Aman Mosque & Ahmadiyya Muslim Community for providing delicious food!


The ARTISTS were Amazing.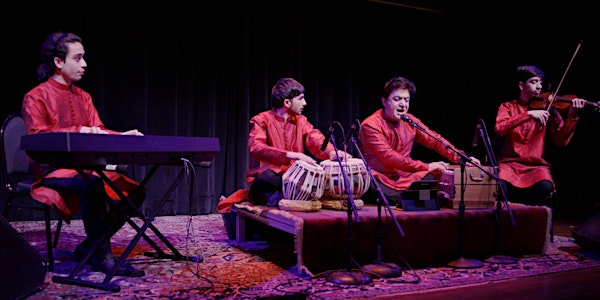 -----------
Tuesdays, 6:30-8:30pm,   Sept. 20– Nov. 29
in Middletown CT
Whether you have No Circus Experience or are a Circus Vet–
ARTFARM CIRCUS ENSEMBLE (ACE) leader,
the amazing Allison McDermott,
creates a safe, inclusive, dynamic space for all-embracing PLAY!
$180 for Ten Weeks
contact info@art-farm.org to register
The

ARTFARM community is working with internationally acclaimed
Congolese theater artist, Toto Kisaku
delving into the themes of & developing material for

Six Feet Under the Losers- Toto's current Work In Progress
exploring the living conditions of modern society
in a time of pandemic through the lens... of an undertaker.
Keep Your Ears to the Ground for the Next 
CULTURAL HEALERS WORKSHOP
in this Dynamic Series:
A

re you called to be a community leader through your work-
and trying to figure out what that now looks like?

Are you struggling to keep up with or to cultivate practices that help you 

feel equanimity and equilibrium?




          Are you seeking to integrate the parts of you that are 

the artist, the spiritual being, the healer?




          Do you believe that societal transformation is possible through personal

          inquiry and applied presencing and of cultivating compassion?
Working towards embodied self-realization as a path for artists
as cultural change-makers & community leaders.
 This will be an on-your-feet, multi-modal/inter-disciplinary, 
safe-space exploration for all types of artists.
We will move, work with expressive arts materials,
have space for personal reflection and group collaboration.
We will cultivate practices that support a quest towards autonomy,
increased consciousness and, if it's your thing-
the capacity to serve- through creative expression.
ARTFARM
 Artistic Director, 
Marcella Trowbridge
, is  
    delighted to bring this internationally cultivated work to her local community,
inspired by her work in Germany as well as Sri Lanka. Marcella is a long time physical theater artist.
She is a soul-activist, healer and Community Ritual Keeper.
Marcella is a Justice of the Peace and a certified Death Doula.
                                                                            Questions? email info@art-farm.org






 

                                                  




WHERE ARE WE NOW?: 

A PERFORMATIVE GRIEF & HEALING RITUAL TO TEND OUR RACIAL WOUNDS




 

A few Audience Responses:




"This expressive performance evoked deep, profound, and thought-provoking feelings, emotions, revelations and reconciliations. You had to be there. That said, we're all human and it would be a blessing if we acknowledged our humanity and our connectiveness."




"I was held in arms I did not know were waiting to hold me - Seriously- That Deep."




Upon walking to the setting my husband and I were greeted with the magical sounds of the sound bowls. To add to the sound healing, natural sounds of the land tapped into all my senses. I felt the wind, I heard the birds, I smelled the fire, I observed Ms.Gail sitting still and all I could taste was the sense of peace. As this performative piece took place it unexpectedly took me to places in my childhood that I suppressed for so long and hadn't acknowledged. In the silent moments of this play I reflected. I was able to acknowledge the hurt and pain I've carried as I let go of the rock that I placed on my heart. I was brought to tears and I left with understanding. I understood the biases that took place in others as well as those that I endured and projected. Marcella and Anitra did an incredible job portraying the gold in our hearts. Thank You for this moving piece that brought so much meaning 

 



      ARTFARM's new work-in-development: 

                             UMBRA  
                an exploration of grief as a threshold to increased consciousness 
CIRCOPHONY 2022- The Things That Go Creep
 
              SHAKESPEARE ALIVE
   BARD AROUND THE BLOCK!
Anitra Brooks and Marcella Trowbridge in rehearsal for Where Are We Now? -2021
ARTFARM EQUITY, DIVERSITY and INCLUSION COMMITMENT
ARTFARM recognizes that many existing systems of power grant privilege and access unequally.
We believe that equity and access are essential for a vibrant, healthy, stable society. Since our inception, ARTFARM has been dedicated to social justice, and we will maintain accountability as we acknowledge and commit to dismantling inequities. We will commit to community growth, service, inclusivity, diversity and increased understanding as an organization and as we continue to pursue cultural consciousness and transformation through the arts.
For more ARTFARM video samples, scroll down to the bottom of this page.
Scroll down to Our Latest 'State of the Onion' Newsletter below.
Malenky Welsh -Terpsichore, Anitra Brooks & Marcella Trowbridge of Where Are We Now?, Cecelia McCarthy-Reid - Terpsichore
Please listen to our newest Audio Project:
RELEASE. FORGIVE. A Soundscape for Dying (with Buddhist Sutras)
Marcella Trowbridge & Joseph Getter
If you missed our BLACK PRESENCE CONCERTS, you can still check them out on FB
Keep your ears out for our next Community Grief Ritual as the weather gets warmer.
This just in from our friend, Jonathon Ellison, Environmental Architect & Clown
Extraordinaire
- and Founder of Water for African Women
Senegal
"
Thank you again to the great folks at ARTFARM in Middletown, CT.
Aissatou and Lala, and their moms, their aunties, their sisters, and their grandmothers, are about to have a 2-acre, solar-powered garden installed in their village.
A whole lotta women's lives are about to experience a massive, positive and sustainable change. Hallelujah, and ARTFARM is a part of this great success!"
***
IN THESE TIMES
An Embodied Community Grief Ritual with Marcella Trowbridge
was held outdoors at The Sanctuary in East Haddam, CT
This is what it was all about:
We will come together to honor our sorrows- personal, for other beings, and for the planet. We will create a container for what the individuals and the group need to navigate. We will journey together through the waters of these uncharted times. 
We will look at grief as a threshold – or gateway- towards more integrated Selves, increased consciousness, healing and a deeper connection to, appreciation for- and even celebration of the now.
Movement. Fire. Contemplative Practice. Space for Personal and Group Work.          Contact with the Earth.
Ritual and community are in our bones. Re-igniting these spaces holds the potential to shift the collective consciousness and help us to bring our individual purposes forward into the world.
Marcella is a long time physical theater artist. She is a soul-activist, healer and Community Ritual Keeper. Marcella is a Justice of the Peace and a Certified Death Doula.
Keep your ears out for our next Community Grief Ritual as the weather gets warmer.
ARTFARM receives Environmental Award from the 
Rockfall Foundation!
"for providing high quality theater that promotes a connection to the land, environmental sustainability, social justice, and an understanding that the choices we make today as individuals and communities will impact the planet for decades into the future."
Thank you Rockfall!
    ARTFARM Friends.    
        We hope you are 
feeling safe and sane and healthy
    we hope that you are finding connections 
  that are nurturing your Essence
We are reckoning with 
the soul of a nation- 
of a world.
         Creativity. Compassion. Nature. Loved Ones. Equity.
     May we open our hearts
       and be able to un-clench our fists.
    May we operate not from a place of fear,
  but of Love.
Wishing for World Peace 
& 
Wellness 
& 
Safety
 -------------------------------------------------------------------------------------------------------------------------------------------------------------                          ARTFARM's new work-in-development
UMBRA
- with it's earliest feedback audience
---
---
Little Apple Circus
at Annie Fisher School on 
March 17
(Canceled, due to Covid)
---
Circus for a Fragile Planet
May 1 at Central Connecticut State University
as Keynote Performance
for statewide Climate Action Conference (Canceled, due to Covid)
---
ARTFARM is back in the research laboratory and studio development stage for our next generative work; UMBRA. 
Keep your ears out for any community opportunities.
TERPSICHORE:
The Women's Movement
received rave reviews and performed to sold out audiences.
"This changed my life."
"I couldn't stop crying- except when I was laughing!" 
"I just can't can't believe it. You got it. You really got it."
"...and that woman! with all of the recycling in her clothing...she was stuffing it in and it was exploding out- all of it, this being a woman..."
part of the proceeds were donated to 
New Horizons Domestic Violence Services
Terpsichore was developed from COMMUNITY ENGAGEMENT & INTERVIEWS EXPLORING   
THE EXPERIENCES OF WOMEN, CULMINATING IN this  
MOVEMENT-BASED WORKSHOP PRODUCTION.
Samantha Sutton, Marcella Trowbridge, Cecelia Mccarthy Reid, Malenky Welsh, 
Summer Northup and Joyce Dilauro in Terpsichore rehearsal
----------------------------------------------------
________________________________________________
 Antigone, Directed by ARTFARM Artistic Director Marcella Trowbridge, received a beautiful response. 
Some unsolicited responses:
ANTIGONE
 is ExTrAOrdINarY. Beautifully directed!
Gripping, moving, perfectly analogous to us (We the People Ruled by Agent Orange), gorgeous minimal  and flexible stage set and 45-degree-angled-dynamic room, and beautifully acoustically balanced, subtle, minimal sound track, powerful acting, perfect pacing, choreography, and a strong strong sense of group dynamics. 
 a family of actors, auteurs, and Arcturians (who teach that the most important ingredient for thriving in the fifth dimension is: LOVE).
Antigone
. She's going places.  Such classic demeanor, countenance, and a stage presence so finely honed and projected... 
she leaves us breathless!
Antigone

 was an enormous gift. You are a masterful director. 
We  who have grown together for years, are now confronting national and global problems together. And I like to think that you, Marcella Trowbridge, in your directing of Sophocles' 
Antigone
, were holding hands across the generations with him and with Brecht and Malina, carrying forward their intents as with a huge banner..
 

Antigone

 is the perfect Greek play for these times. 
And you were the perfect director.
Thanks. We all resonated with the words...with the Chorus...with the powerful figures of 

Antigone

, Kreon, Ismene and Tiresias. Because of your  careful, passionate directing, every line they delivered was strong, clear, evenly enunciated. The Directors Note in the program said it all: 
in directing 

Antigone

, you used your Craft to speak to the world of Justice, Betrayal and Hope.

\
ARTFARM Artistic Director, Marcella Trowbridge, collaborating with Oddfellows Playhouse on a production of ANTIGONE.
Teen actors during the first rehearsal for Antigone